Punta de Mita Restaurants
At W Punta de Mita, we believe that food is more than just fuel. It should be transformative, appealing not just to your taste buds, but to all of your senses. As such, we take our food very seriously. Transport yourself to the streets of Southeast Asia on an unforgettable culinary journey at Spice Market, or try your hand at making your own mole at Venazu Restaurant. Learn more about our Punta de Mita restaurants – we look forward to dazzling you.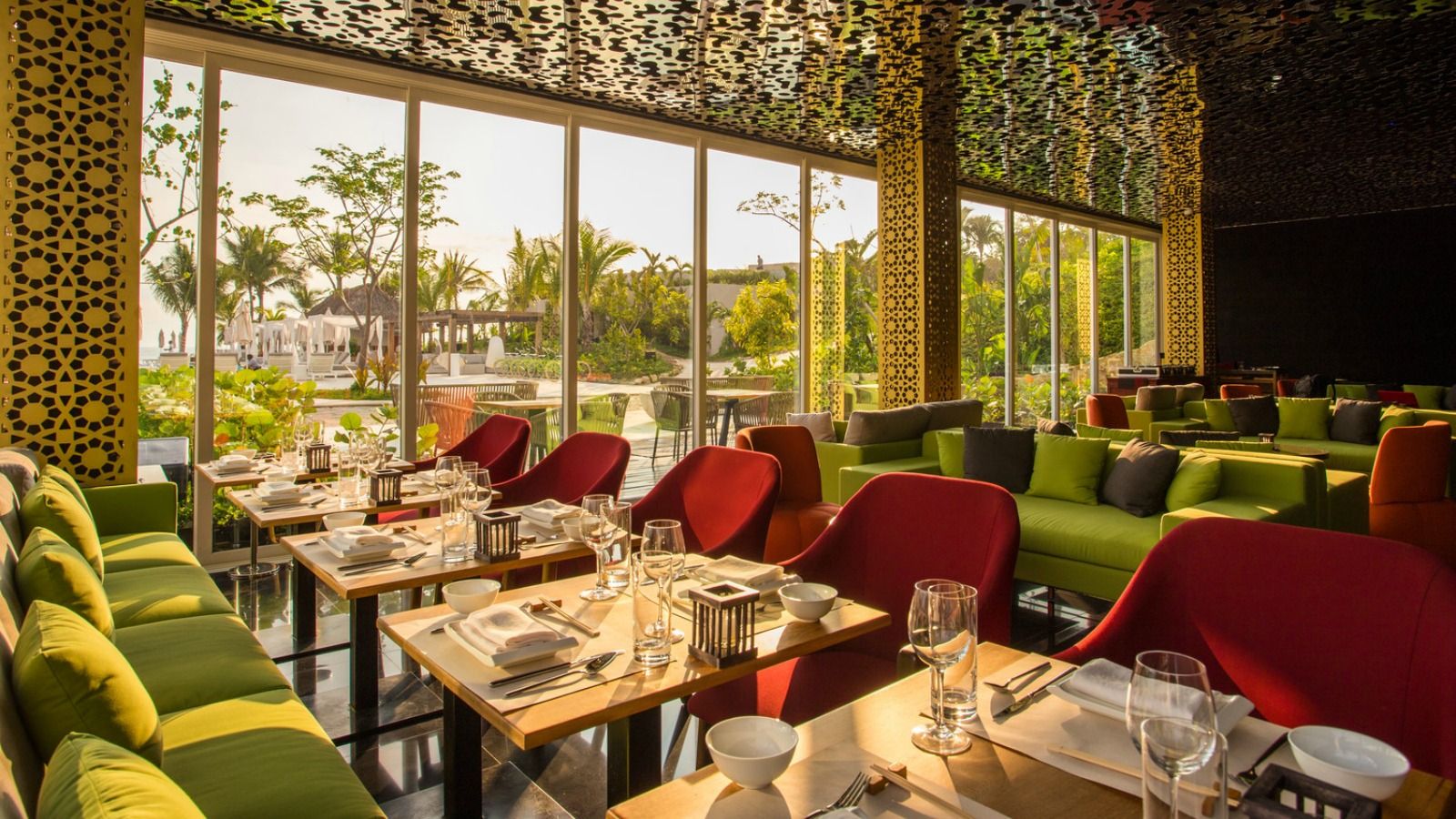 Spice Market Restaurant
Enjoy Chef Jean-Georges Vongerichten's innovative take on traditional Thai, Vietnamese, and Malaysian street cuisine at Spice Market. Our signature dining venue takes inspiration from the famed New York City restaurant of the same name, which also has outpost in Doha.
The space itself is equally piquant, with warm shades of star anise red, which covers plush seats and silhouettes the wraparound bar. Lime green defines couches and stools in the dining room as well as wicker chairs and screens on the patio, which at night is bordered in a garland of lights. Natural wood tables and dark stone floors shimmer in the mirrored ceiling. Featuring hand-cut foliage-likes shapes, the original ceiling shines by day and sparkles by night. Spice Market's signature glass dome amplifies the exotic setting by marking the VIP area, while a DJ sets the mood with a live soundtrack.
Settle in and select from the menu's pioneering plates—served family style. Dishes include spiced chicken samosas with cilantro-infused yogurt, vinegar-infused pork vindaloo, ginger fried rice with golden egg, and halibut cha ca la. Match your meal with a handcrafted cocktail, then finish it off right with one of the chef's signature desserts, such as toasted coconut cake with salted caramel and pandan ice cream.
Cuisine: South-east asian street cuisine
Hours of operation: Daily: 7:00 PM - 11:00 PM
Atmosphere: Upscale Eclectic
Setting: Casually Exotic Restaurant with Nightlife
Outdoor Seating Available: Yes
Dress Code: Resort Smart Casual
Smoking Permitted: No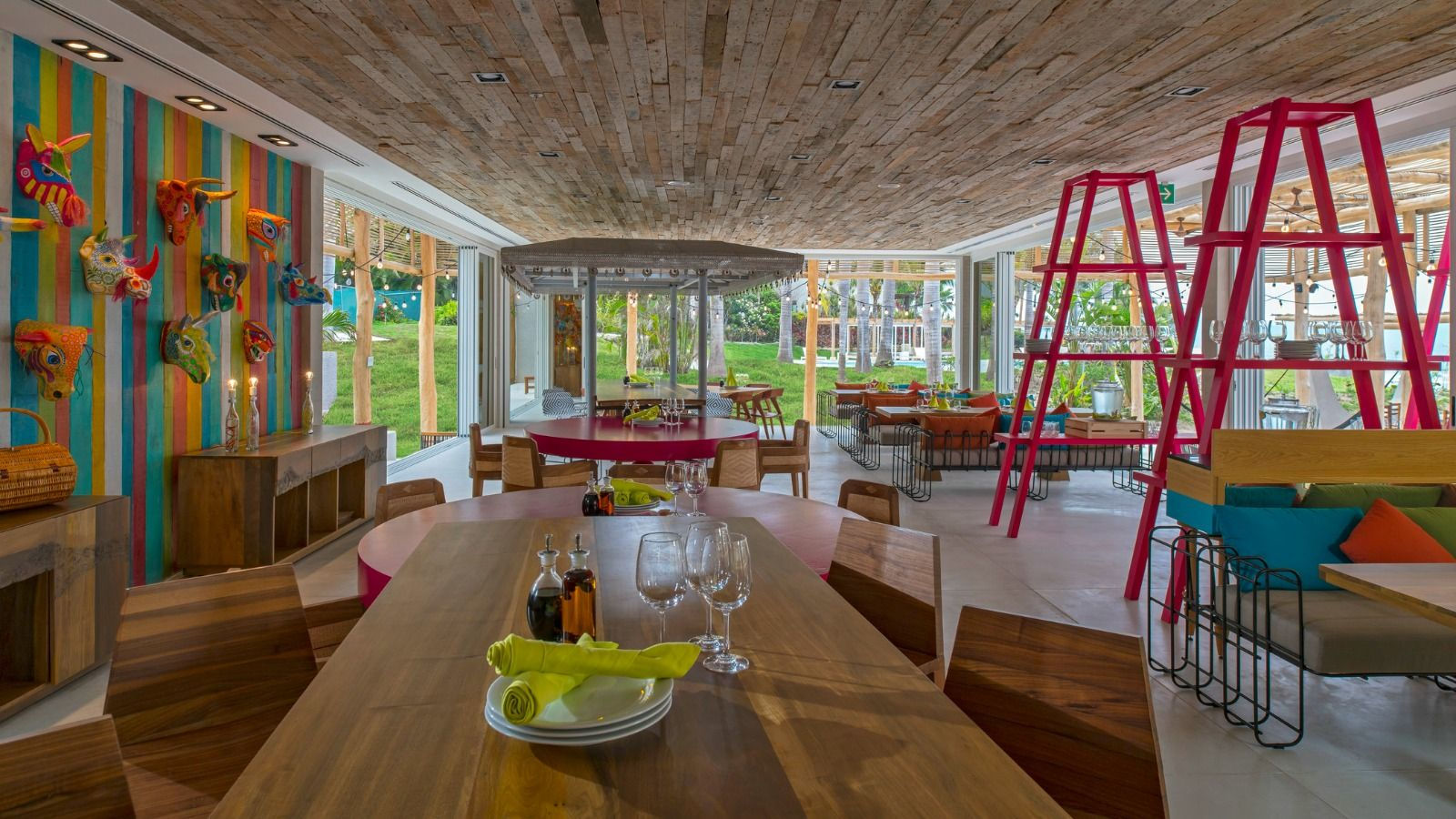 Venazú Restaurant
Inspired by Huichol legend about the venado azul, the blue deer, our all-day dining venue, Venazú, synthesizes a modern indoor-outdoor design, an outdoor terrace with sweeping views, and a festive vibe evocative of a Mexican town during a weeklong fiesta.
Vibrant local accents—candy-colored striped walls, bright animal masks, and refurbished Mexican baking shelves used as partitions—mix with clean-lined wooden tables and chairs, and natural stone floors. In the communal seating area, contemporary couches and chairs topped with vibrant throw pillows invite you to mingle, while the massive show kitchen presents chefs chatting with guests while they whip up signature dishes.
Try our signature Blue-Deer Insignia cocktail with a popular snack, like guacamole with chips, Mexican sauce, and panela cheese; fried calamari with curry dressing; and fish croquettes with chipotle dressing. Or start your lunch and dinner with a fresh starter, ranging from yellow-fit tuna tiradito with soy dressing to tequila-marinated shrimp with Mexican couscous to beef carpaccio with mustard dressing, parmesean cheese, capers, and olive oil. Signature entrées include tacos de langosta al pastor, risotto de Huitlacoche, Venado cocida en hoyas de aguacate, and our catch of the day.
For young guests, aged four to 12, we have a special menu with tried-and-true favorites: salads, pasta, nuggets, pizza, and sandwiches.
Cuisine: Mexican
Hours of operation: Daily: 7:00 AM - 11:00 PM
Atmosphere: Warm, Welcoming and Interactive
Setting: Casual Dining with Open Show Kitchen
Outdoor Seating Available: Yes
Smoking Permitted: No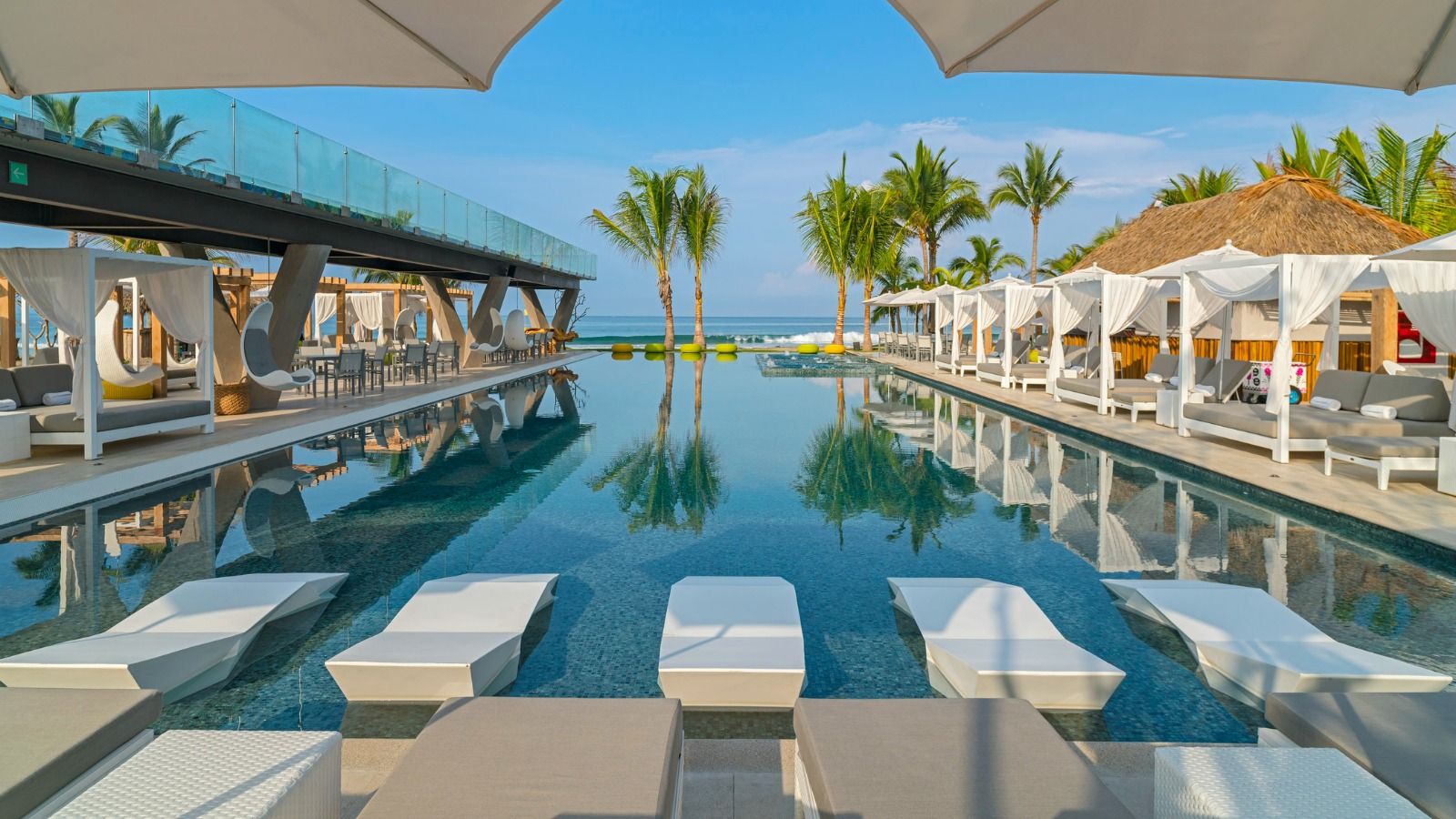 WET® Deck
Live your best life on the WET Deck, where VIP cabanas and sun loungers frame the azure pool and face the glittering ocean. Pulsating beats magnify the energy, which on the weekends are spun by a live DJ.
Settle in with an original cocktail from our poolside bar, manned by innovative mixologists. Their custom creations include the blue curacao-spiked Blue Deer and signature Bahia Sunset, which pairs vodka with sparkling wine, raspberry, and lychee.
Epicurean bites—from fresh ceviche and cochinita pibil tacos to veggie and charcuterie paninis—perfectly pair with the libations, while alcoholic ice cream provides a sweet ending to any meal.
Cuisine: Snacks, international + poolside
Hours of operation: Daily: 11:00 AM - 7:00 PM
Atmosphere: Relaxed
Setting: Poolside Bar
Outdoor Seating Available: Yes
Serving Style: À La Carte
Dress Code: Beachwear
Smoking Permitted: No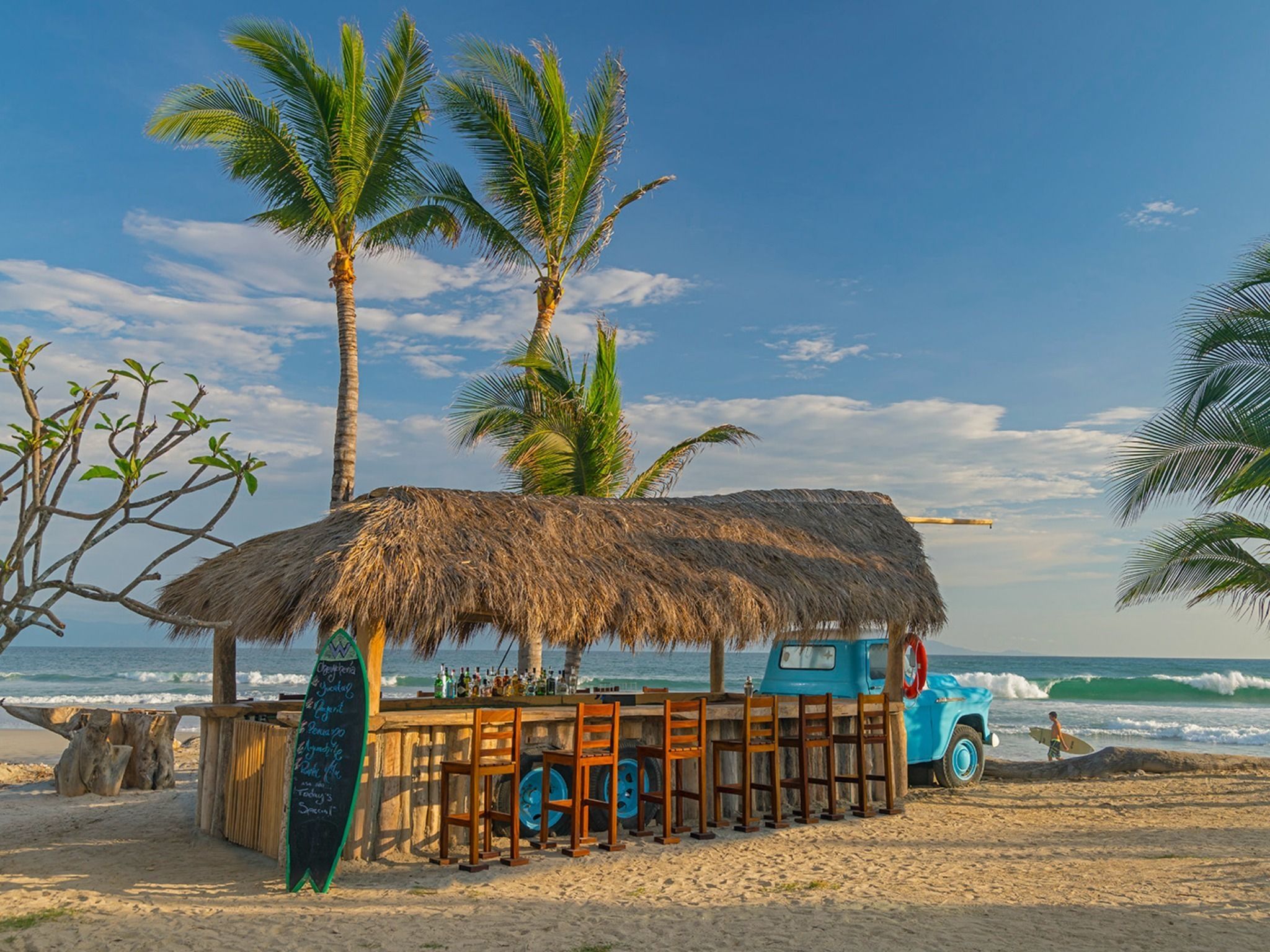 Chevycheria
Stop by Chevycheria for a rare taste of Punta de Mita's famed ceviche and bohemian beach culture. Along with a covetable oceanfront location and catch-of-the-day cuisine, this thatch-roofed venue showcases an original design that transforms a 1950s Chevrolet 3800 truck into a bar. There are also four tables and lounge chairs.
Pick your preferred spot, then take your pick of savory ceviche. The vibrant menu includes authentic Latin American recipes that blend tangy citrus with local seafood. Signature dishes range from Ceviche Yucatan's spicy shrimp, scallop, and octopus to Ceviche Peruano's yellow-fin tuna with soy sauce, aji rocoto, and avocado to Ceviche de Pescado—Punta de Mita's coconut and spice-infused catch-of-the-day. Each perfectly combines with a crisp craft beer.
Cuisine: Ceviches + Freshly caught
Hours of operation: Daily: 12:00 AM - 7:00 PM
Atmosphere: Casual Bohemian
Setting: On the Beach
Outdoor Seating Available: Yes
Serving Style: À La Carte
Dress Code: Beachwear
Smoking Permitted: Yes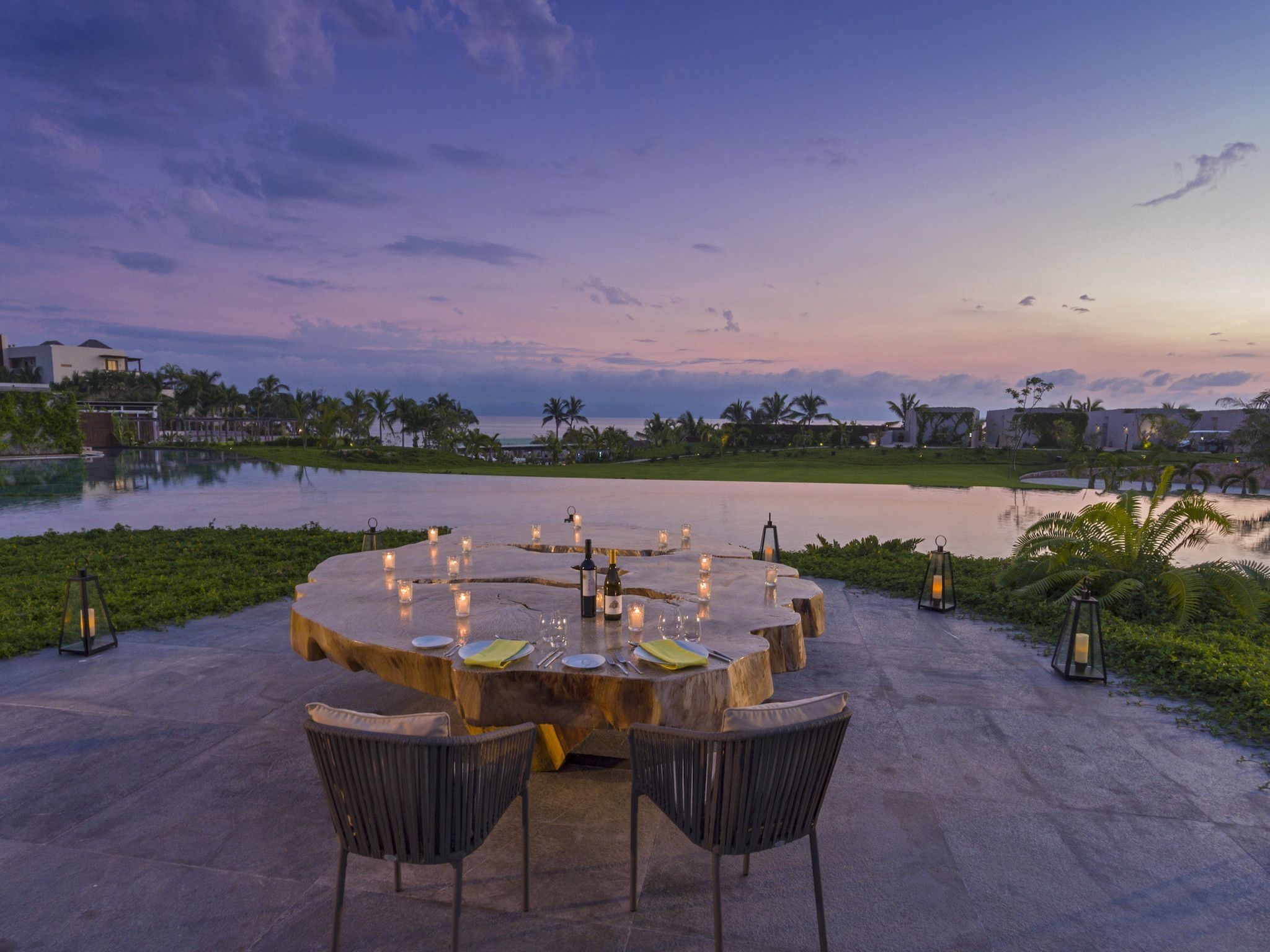 MESA1
Take your celebration further with a private dinner at Mesa 1. This unprecedented dining venue is not only situated in the center of a spring-fed lake, it is accessible only via steppingstones that emerge from the water then disappear once guests have taken their seats at the breathtaking dining table. Sourced from the local forest, it is crafted from a massive Parota tree trunk and framed by flickering fire pits and torches.
A seven-course tasting menu prepared by one of our private chefs further amplifies the unparalleled experience. The customizable menu showcases gastronomic creations—such as king crab tartar with green gazpacho and lobster cannelloni with foie gras, jabugo, and arugula—that elevate an intimate dinner for two or a gathering of up to 18 of your closest friends and family.
Mesa 1 hosts only one seating per night. Please email reservations inquiries in advance.
Cuisine: Over the top culinary experience
Atmosphere: Intimate Dining
Setting: Private Island
Outdoor Seating Available: Yes
Serving Style: À La Carte
Dress Code: Resort Casual
Smoking Permitted: Yes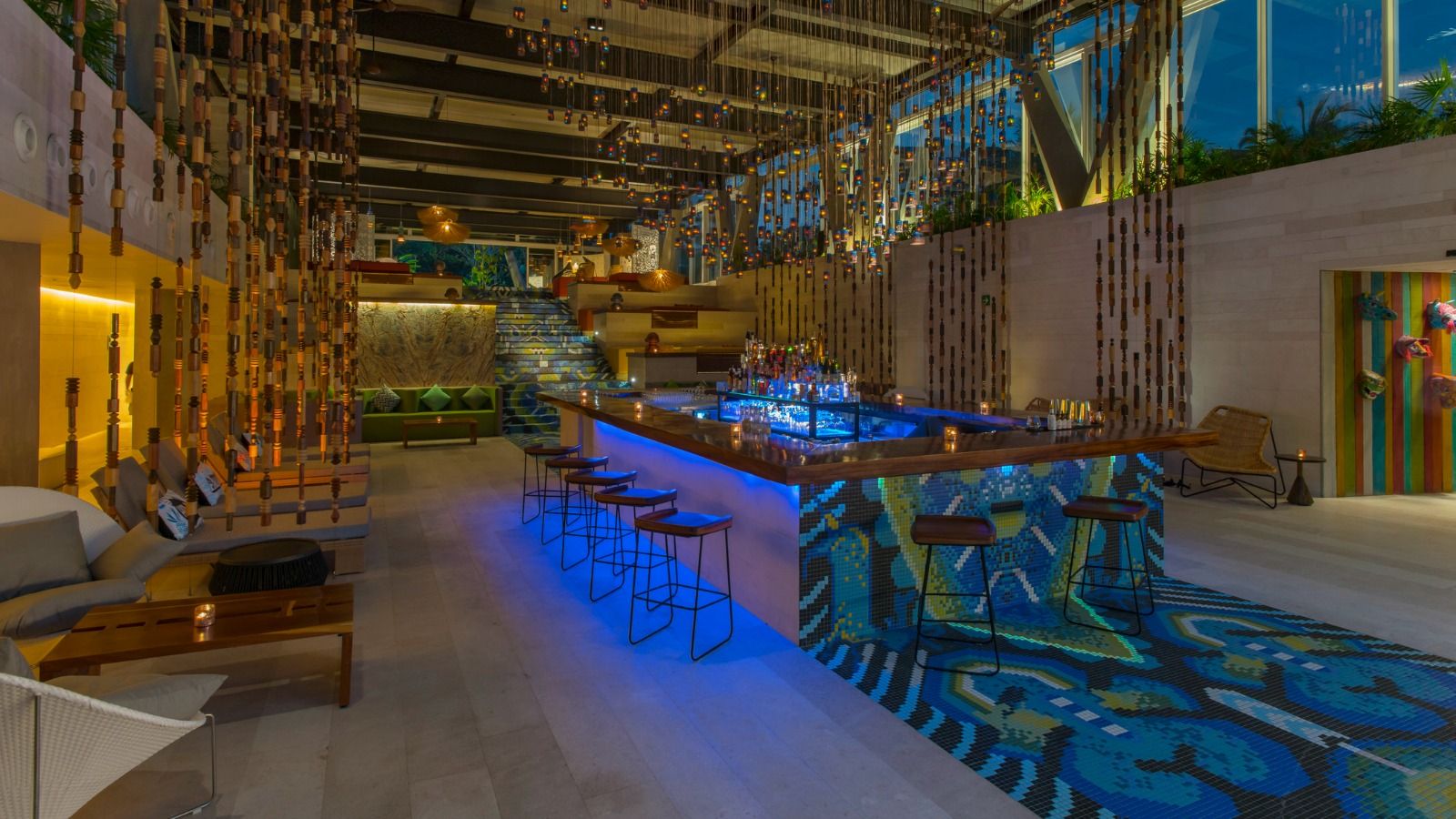 Living Room
Stop by the W Living Room anytime. From daytime refreshments to sunset cocktails to creative nightcaps, we invite guests to sip and mingle as hypnotic beats—ranging from house tunes to live weekend DJ mixes—set a magnetic scene.
Equal parts electric and easygoing, the venue introduces fresh ocean breezes via a retractable glass wall facing the ocean, while the welcoming design takes inspiration from a palapa—a traditional Mexican open-plan shelter. This native concept remixes with nods to the country's celebrated mysticism, like the "Camino Huichol" tile walkway that leads to the alter-like bar. Beautifully crafted strands of beads frame coves with cocktail tables and cushioned benches, illuminated by golden chandeliers. Featuring over 450 LED lights, these glittering fixtures gently twinkle, mirroring flickering votive candles.
A ceremonial gong rings each evening to signal guests to gather for a sunset toast. Sample a craft beer, mezcal cocktail, or signature creation from our mixologists. The Shaman blends mezcal, contreau, and lime juice with agave honey and worm salt, while the Piwiwi combines tequila, fresh grapefruit juice, agave honey, fresh lime juice, and soda. A menu of all-day bites fuels the fun.
Cuisine: Tapas
Hours of operation: Daily: 9:00AM - 12:30 AM
Atmosphere: Electric, Easygoing Vibe
Setting: Lobby Lounge
Outdoor Seating Available: No
Serving Style: Bar /Menu
Smoking Permitted: No